October 1st, 2009 Categories: Buying, Selling
Perhaps the best way to understand the costs required to buy and sell a home is to understand the HUD1.  This is a standard two-page document that details all expenses and credits for a home sale.  This video walks through a HUD1 so you can understand the basics: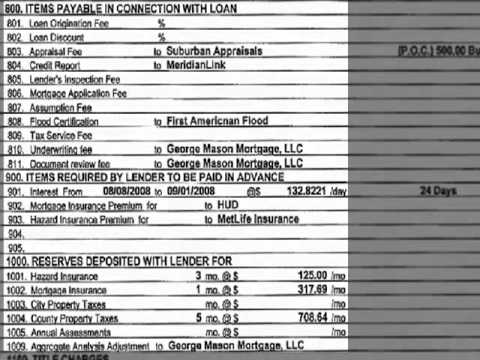 Closing Costs Estimates for Buyers
Here's the top four expenses for home buyers in Montgomery County, Maryland:
Transfer and Recordation Taxes.  The state of Maryland and Montgomery County collect taxes that total between 2.2% and 2.5% of the total purchase price.  This is typically split between buyer and seller, so estimate this at 1.2% of the purchase price.
Title Insurance.  This insurance protects you and your mortgage provider from any defects in title which crop up after settlement.  The details of a title insurance is an article on it's own.  I find that 0.4% of the purchase price is a good estimate.
Prepaids and Escrow.  Escrow accounts to pay for future property taxes and insurance will be setup.  The amount of property tax that you'll pay at settlement depends on the timing of settlement.
Loan Charges.  I typically see around $700 for an appraisal and $600 for underwriting and document preparation.  However, this can vary widely by mortgage providers.  When comparing different loan programs, don't simply compare the total closing costs estimated.  Item's 1 – 3 are calculated by the settlement attorney and will be the same regardless of the mortgage provider.  Details of this item will be covered in a separate article.
A buyer will have other charges at settlement that often total between $1,000 and $2,000.
Closing Costs for Home Sellers
Costs for home sellers are more straight forward:
Brokerage Fees. This is the fee that compensates the listing and buyer agent to market, service and eventually close a sale.  The amount of the commission is negotiated between the broker and homeseller and is typically between 5 and 6% of the sales price.
Transfer and Recordation Taxes.  Assume this is split between the buyer and seller, so estimate 1.1 to 1.2% of the sales price .
Mortgage Payoffs.  All loans secured by the home's title – including all home equity loans – are paid off at settlement.
Understanding costs associated with buying and selling in Montgomery County is essential when planning a sale.  Contact us anytime when planning your next move.
Posted by Bruce Lemieux
Leave a Reply