Buying Category
November 14th, 2012 Categories: Buying
Not Necessarily
Homes are all over the internet on countless sites, so it's easy to believe that the slickest websites also have the best data.  In fact, this isn't the case.  Some are really good, some are breathlessly horrible, and a lot are somewhere in between.  Read the rest of this entry »
Posted by Bruce Lemieux | Leave A Comment
December 27th, 2011 Categories: Buying, Market Updates
Take a tour of Montgomery County and quickly get up to speed on home prices throughout the county.
Posted by Bruce Lemieux | Leave A Comment
December 14th, 2011 Categories: Buying, Selling
We often get questions about homes that are under contract.  When a home is first introduced to the market, it's status is "Active".  Once ownership finally transfers, the status is "Sold".  That's simple enough.  In between, however, there are a couple of different 'Contract' statuses that can be confusing.  Here's an overview of typical listing status changes.
Active. Home is fully available. Seller may be negotiating a contract with a buyer, but seller can still consider another offer.

Contract – No Kickout. Seller cannot accept another contract. Basic buyer contingencies (home inspection) outstanding.
Contract. Buyer and Seller are locked-in to a contract. Buyer financial contingencies could still be outstanding.
Sold. Title has been transferred from seller to buyer.

Contract with  Kickout.  Seller can accept a  'backup' contract and can 'kick-out' existing contract.  Typically used with a home sale contingency.
Contact us anytime with questions about homes in Montgomery County.
Posted by Bruce Lemieux | Leave A Comment
July 15th, 2011 Categories: Buying, Selling
If you own a home and need to make a move, you can take several strategies to get it done.  There is no single, best way to make this happen.  The most financially conservative approach will require two moves — not a problem if you've been looking for an excuse to move in with your family.   If the thought of living with your parents or children doesn't have a strong appeal, then maybe you should buy, sell and carry a couple of mortgages.  What works best for you? Check out this article and watch the video to review several strategies to make it happen.
Posted by Bruce Lemieux | Leave A Comment
July 12th, 2011 Categories: Buying, Selling
Which is easier:  juggling knives on a unicycle, or buying and selling a home with a home sale contingency?  Although we've tried juggling (we're not very good at it), we've never attempted riding a unicycle.  We have, however, helped many clients move from one home to another with the protection offered by including a home sale contingency.  Go to this article and see a detailed video and all of the steps involved.
Posted by Bruce Lemieux | Leave A Comment
January 12th, 2011 Categories: Buying
There's at least a hundred great reasons to live in Montgomery County.  Commuting isn't one of them.  The Metro D.C. area has some of the worst traffic in the U.S., so you need to think about your commute when choosing a home here.  Here are the top 6 things you need to know:
The Potomac River.  Yes, I know, you don't plan on paddling a kayak to work, but the Potomac River shapes the basic road system in Montgomery County.  Glancing at a map you'll see that Montgomery County shares a border of over 30 miles with Fairfax County in Virginia.  Read the rest of this entry »
Posted by Bruce Lemieux | 1 Comment »
December 22nd, 2009 Categories: Buying
Home search sites on the web are
not

the same
The internet has revolutionized the home buying process.  In the past, real estate agents were gatekeepers of critical real estate data:  homes available for sale, past sales in a neighborhood and more.  No more.  Consumers can access information from a countless number of sites without the need of an agent.  This is definitely good for buyers, sellers and the real estate industry.  Unfortunately, consumers now have a new challenge when navigating a tidal wave of home sites — there's a lot of bad information out there.  To help find the good and avoid the bad, I'll explain the basics of web home searches and review some of the popular home search sites for Montgomery County and the Metro Washington D.C. area. Read the rest of this entry »
Posted by Bruce Lemieux | 2 Comments »
December 1st, 2009 Categories: Buying, Selling
A buyer can only void a contract if a home inspection reveals serious/legitimate issues
The typical home inspection contingency allows a buyer to either negotiate home inspection items or void the contract and have his escrow deposit returned within a negotiated time frame (usually 7 to 14 days).  Absolutely no reason has to be given for voiding the contract:  none, nada, zip.  Is that fair to buyer and seller?  Absolutely.  Ultimately, only the buyer's opinion of the property matters.  Imagine what would happen if the buyer had to provide a "legitimate" reason to void the contract.  A buyer's and seller's definition of "legitimate" would rarely line-up.  Since the buyer is the one taking possession, his opinion is the only one that matters.  Is this a way for a buyer to back out of a contract for no reason?  Yes, it is.  It does happen, but not that often.
A buyer has only one opportunity to inspect a home
Typically a buyer will have only one inspection from a licensed home inspector, but a buyer could have several at his discretion provided they are completed within the agreed-to time limit.  The best strategy is Read the rest of this entry »
Posted by Bruce Lemieux | 1 Comment »
October 20th, 2009 Categories: Buying, Selling
Once a Buyer and Seller ratify a sales contract, they must jump through a few hoops for ownership to finally transfer. There's a zillion ways to mix and match contract terms to meet the requirements of the Buyer and Seller, so each contract is different.  Here's the basics so you know what to expect.
Posted by Bruce Lemieux | Leave A Comment
October 1st, 2009 Categories: Buying, Selling
Perhaps the best way to understand the costs required to buy and sell a home is to understand the HUD1.  This is a standard two-page document that details all expenses and credits for a home sale.  This video walks through a HUD1 so you can understand the basics: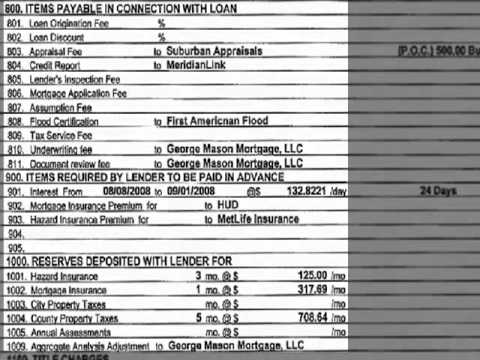 Closing Costs Estimates for Buyers
Here's the top four expenses for home buyers in Montgomery County, Maryland Read the rest of this entry »
Posted by Bruce Lemieux | 8 Comments »
April 10th, 2009 Categories: Buying, Market Updates
How low can I go when making a purchase offer?
I get this question a lot these days.  I took a detailed look at all sales for 2008 and provided an analysis for list-to-sales price ratios for Montgomery County.  This provided a good overview for the County, but it left basic questions unanswered:
How does a home's 'days on market' impact reductions?
Can a buyer get bigger reductions on more expensive homes?
Does the available inventory affect price reductions?
In this article, we'll drill into the statistics and get some answers. Read the rest of this entry »
Posted by Bruce Lemieux | 2 Comments »
January 31st, 2009 Categories: Buying, Selling
Two very different perspectives
Buyer: The market hasn't been this bad in 50 years – everything is totally overpriced
Seller: My house is special. My house is unique.  My house has a high value.  I'm not giving it away.
Right now in Montgomery County, the gap between buyers and sellers can be like the Grand Canyon.  Who's on the right side? The answer is somewhere in the middle.
Good News for Buyers – Our Market is Relatively Strong
How can a strong market be good for buyers?  The lower the price the better, right? Read the rest of this entry »
Posted by Bruce Lemieux | 6 Comments »