When your current home is no longer a great fit for your lifestyle, there are several strategies you can take to make a move.  Structuring a contract with a home sale contingency can be a way to avoid two mortgages and a double move.  Still, this approach is not without risks.  Watch the video to understand all the steps.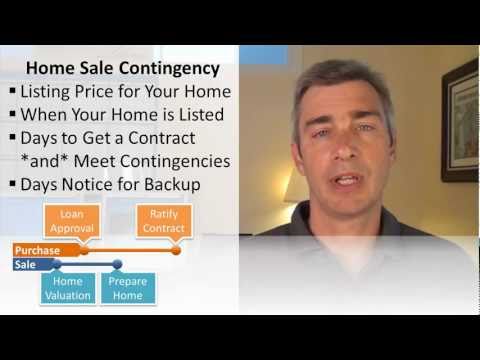 Financial Planning
Buying with a home sale contingency requires the management and coordination of two separate transactions: a purchase contract, and a sales contract for your current home. Before starting on this path, you should first obtain a realistic estimate of net proceeds from the sale of your current home. Next, speak to a loan officer to see if you qualify for the type of home that you want. If you do and chose to move forward, go ahead and make full loan application. Now's the time to shop around and pick a local loan officer. Provide everything that will be needed for your loan — bank statements, tax returns, etc. You won't have time to shop around for a loan later and you can't afford to have unexpected financing problems later in the process.
Prepare Your Current Home
This may seem premature, but your next step is to prepare your home for sale. Now's the time to paint, replace carpet, make repairs and de-clutter. You should also sign a listing agreement and have your agent prepare all marketing material (for our listings, we need a minimum of 7 to 10 days for photography, website creation, brochures, etc).
Find Your New Home
Next, find your home and negotiate a purchase contract. You'll agree on the price, settlement date, and typical contingencies just like a regular sale. Plus, you'll have a home sale contingency. In it, contract language in your purchase contract includes basic terms of your home sale:
Maximum asking price
Number of days to get your home on the market (typically 3 days)
Days to get your current home under contract *with* non-financing contingencies removed
Days you'll have to remove the home contingency if the seller gets another offer.
Just like with any purchase contract, basic contingencies begin on your purchase: your loan officer receives the contract, your escrow check is deposited, the appraisal is ordered, and the home inspection is scheduled.
Market Your Home, Work Contingencies and Close
While you're busy completing the steps of your purchase, you'll also be marketing and showing your home – that's why all of the preparation and home marketing was completed earlier. After you negotiate a contract on your home, you'll complete inspection and financing contingencies on your purchase. Then, you need to quickly get through the contingencies on your sale. Make sure your buyer has rock-solid financing, and you have very tight inspection contingencies – you cannot allow these to drag out.
What Can Go Wrong?
This looks simple on paper, but this can be a high pressure, high risk process. These are the top things that can go wrong.
Seller accepts another contract. While your home sale contingency is in place, the seller can still show the property and accept backup offers. If the seller does accept another offer, he will give you notice to remove your home sale contingency, or he'll void your contract. Your escrow check will be returned, but you'll lose money spent on inspections and the appraisal.
Watch for the 'Homeless Danger Zone'. Once your home is under contract, you are committed to that sale. Unlike contingencies for buyers, seller's don't typically have the ability to void their sales contract. So, if your purchase falls through for any reason – you can't get financing on the purchase, the seller accepts another offer before your contingencies are removed, you don't like the home inspection results, etc — then you could be forced to complete your sale with no home to move into. This emphasizes the need to carefully watch all contingencies and get through both transactions as quickly as possible.
Your buyer can't close on your home. Everything's looking good, and then two weeks before settlement, your buyer loses his job and can't get financing; or maybe he just changes his mind and defaults. Typical contract language protects you in this scenario. If your buyer doesn't close on your home, you aren't required to follow-through on the purchase. Look for contract language that protects you if your buyer doesn't settle on the purchase of your home.
Buyer's settlement is delayed. You've got everything lined-up to close both transactions and move on the same day – then your buyer's loan is delayed messing-up the entire schedule. Avoid this by negotiating a rent-back on the sale of your home. With a rentback, you can settle on the sale of your home, then close on your purchase soon after, and then move later during the rentback period.
Last Thoughts
The biggest challenge with this approach is simply getting a home seller to accept it. We've modified this approach for many of our clients to help make it more appealing to the seller, but yet still provide the protection that comes with it. Contact us and we can review your situation and create a plan.
And remember – every contract is different, and everything has to be in writing. So read and understand everything that you sign.